http://i621.photobucket.com/albums/tt297/pizachu/spoiler_zpsbmvikyhz.png
Asgore Dreemurr is the king of the underground, and is mentioned through-out the game. He is the ex-husband of Toriel, and the father of Asriel Dreemurr and Chara, from UnderTale. His purpose was to gather 7 human souls and become godlike to break the barrier.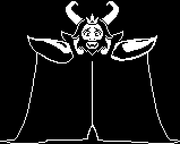 Pacifist
He died after leaving the underground, before Chisp fell down. Toriel then brought all the monsters back to the Underground, sad.
Genocide
Once Toriel dies, she says "I'm weak just like ASGORE.. I only wanted us to be freed happily, not from killing other children, but ASGORE refused. Then he died after leaving. Now I'm dieing from protecting you.. I guess his choice WAS right.".
Neutral

Before fighting Omega Flowey, you fight Pupi, who states that he killed Asgore once he left. He then says he wanted to destroy the underground, and managed to trick the monsters to make him their king.
Ad blocker interference detected!
Wikia is a free-to-use site that makes money from advertising. We have a modified experience for viewers using ad blockers

Wikia is not accessible if you've made further modifications. Remove the custom ad blocker rule(s) and the page will load as expected.