http://i621.photobucket.com/albums/tt297/pizachu/spoiler_zpsbmvikyhz.png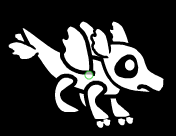 Flyno is a character designed by "Powdered-Doughnut". He replaces Whimsun, and the Papyrus Date.
Info
Flyno resembles a tiny dragon with angel wings. He is encountered in The Ruins, but appears as a NPC somewhere in the MTT Resort.
To spare Flyno...
You must "help" him, then pick him up. Then he`ll be floating in the battle a bit.
You can also try to insult him 3 times, in which he`ll run away from the battle.
Pacifist

To get the pacifist ending, you must FLIRT Flyno, then go on the date with him.